Bathroom Remodeling Cost in the Fairfield, OH Area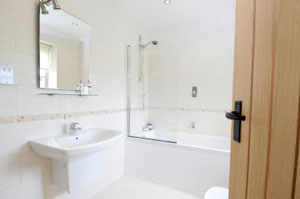 A bathroom remodel is a cost-effective home improvement.
Does a stained bathtub or leaky faucet have you dreaming of a remodeled bathroom? There are several benefits to upgrading your bathroom, including improved look, safety and comfort. Remodeling your bathroom can also increase your home's resale value, with up to an 80 percent return on investment.
The price tag of your bathroom remodel depends largely on the features that you choose to upgrade, so it's important to determine what's most important to you and plan where you want to invest your money.
Bathroom remodeling options to consider
You have several choices when renovating or remodeling your bathroom features. Your remodeling project may include all or some of these features: sinks, faucets and fixtures, countertops, bathtub, shower, toilet, lighting, flooring and more.
Some of these upgrades, such as replacing a shower door or faucet or toilet seat are minor improvements that can probably be done yourself, but major remodeling requires a higher level of skills and should be left to a professional.
Hiring a bathroom remodeling contractor
A bad bathroom remodeling job can cost you more in the long run , so it's best to hire an experienced remodeling contractor who will do the job right the first time. By first discussing your design ideas with the contractor, they can provide you with a more accurate estimate on the time and cost to achieve the bathroom remodel you have in mind.
Our cost advantage
AllGood Home Improvements' bathroom remodeling services offer several financial benefits:
Bath and shower systems are custom manufactured to ensure a perfect fit
All of our contractors are trained and certified
Warranty guarantees no cracking, fading or peeling on any of our Bathwraps bath or shower systems
Free estimate includes a design consultation, custom plan and detailed written cost estimate
Payments starting as low as $99 with financing options for qualified borrowers
Looking for a price? Get a no cost, no obligation free estimate.