AllGood Home Improvements Mission Statement
Ed Grant, President of AllGood Home Improvements.
At AllGood Home Improvements we understand that your home is your most single largest investment. Finding a contractor that you can trust to work on your home is crucial. At AllGood Home Improvements we refuse to cut quality of materials and workmanship for a so called bargain price.
We realize that you know good things are not cheap and cheap things are not good. So if you would prefer to do it right the first time, REMEMBER, there's only one name to trust and that's AllGood Home Improvements!
About AllGood Home Improvements
Home design gives homeowners a unique chance to express themselves in a lasting way. Picking out a color for siding, a roofing material, or new gutters can contribute to your home's style. And when you live somewhere of your own creation, chances are you'll feel happier and more connected to the space around you.
In business since 1993, AllGood Home Improvements and our other location in Pittsburgh have provided high-quality home exterior and remodeling services to our satisfied customers. Take your roof, siding, windows, and home interior into your own hands! All of our products are industry proven and exceed expectations, with a variety of colors and options available for optimal customization. Our expert technicians can solve any problem you might have with insight and flair. And our friendly attitudes will put you at ease throughout the entire process. Together, we can make your vision a reality!
A letter to AllGood customers from president Ed Grant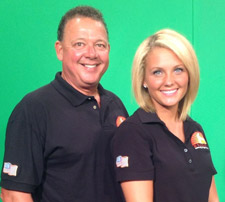 President Ed Grant with his daughter, Alicia.
Thank you for taking the time to search AllGood Home Improvements. For over 20 years now, nearly 20,000 homeowners have trusted us to improve their home. Many of our customers have come back to us more than once, by replacing their windows, roof, vinyl siding, entry doors, and more.
I find that when a homeowner is looking to do one of these projects, they are really looking for a company to trust and receive a great value. At AllGood, I can assure you both will happen. I can tell you that these two qualities start at the top and are executed in your home with the finished products.
When growing up, we practiced certain values in our home. Now those values are being passed on to the third generation, and will be carried through to your home. AllGood is family owned and operated, and will never be too big to forget the values that we carry out one home at a time. Every homeowner is valued and respected the same at AllGood, regardless of how big or small the job is. You can put your mind at ease that when you hire AllGood for your home improvement needs: we will treat your home as ours, and you will receive the highest quality products at a great value. Thank you in advance for your future business, and remember. We'll save you a lot of money!
Sincerely,
Ed Grant
President
Giving back to the community
Involvement in our community is a great way to ensure benefit and development for all. AllGood Home Improvements takes part in a number of projects to give back to our neighbors. We have partnered with Goodwill in the past. We also donate to Kicks for Kids, an organization whose mission is to 'level the playing field for children at risk' by giving them interactive programs they normally wouldn't have. We are proud of the work we are able to do, and we look forward to future opportunities to help out!
Our accreditations and affiliations
Here at AllGood Home Improvements, we maintain a number of partnerships to ensure our best for our customers. We are accredited with the Better Business Bureau and Angie's List, proving our dedication to customer service. We have been screened by the League of American Homeowners, a non-profit benefit organization founded by homeowners, who attest to our excellent standards. Finally, we are members of the National Association of the Remodeling Industry, and our company is a Certified Shingle Master with CertainTeed, a leading manufacturer of several building products including roofing and siding. These organizations keep our industry knowledge current so we can provide our customers with solutions and products that work.